Hello.
This is Fukuda of the TAILORS WORLD editorial department.
Today I would like to talk about suspender end designs.
What is an end?
First, what are ends?
Ends, as the name implies, are the connections at the end of the suspenders where the pants are hung.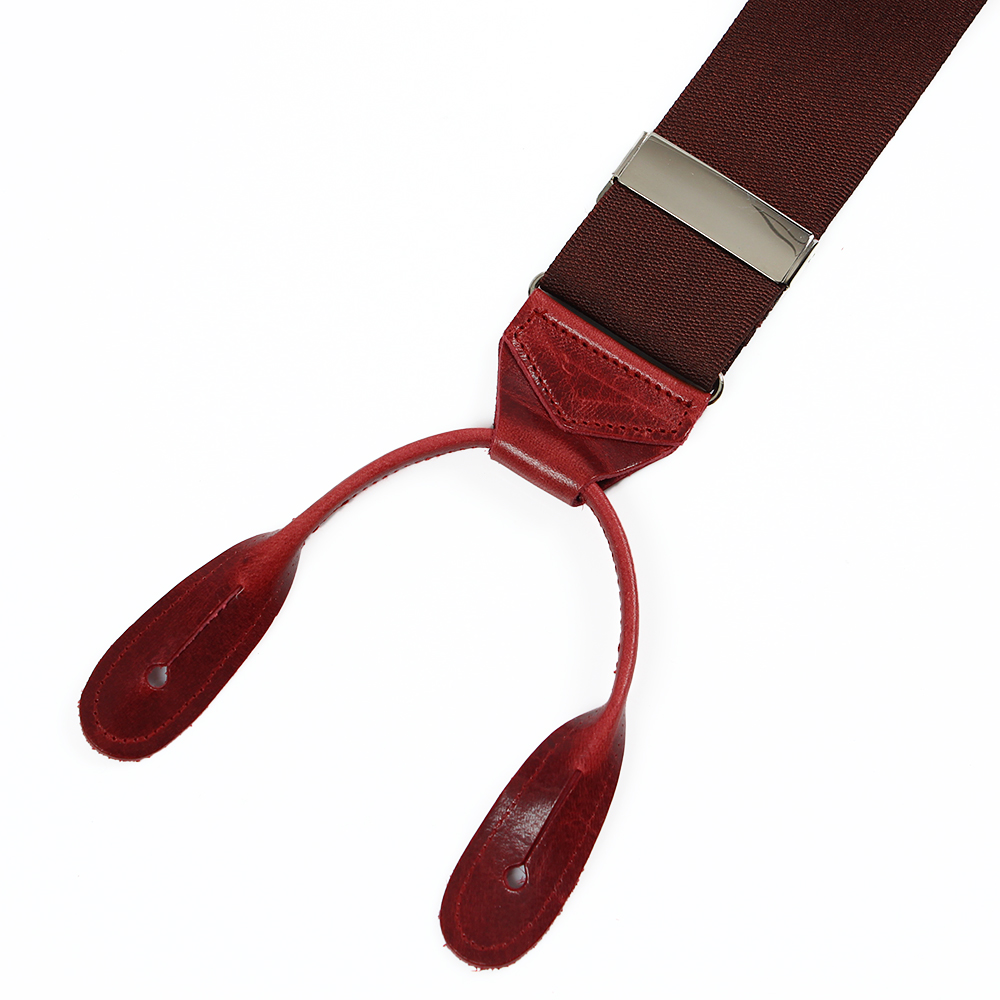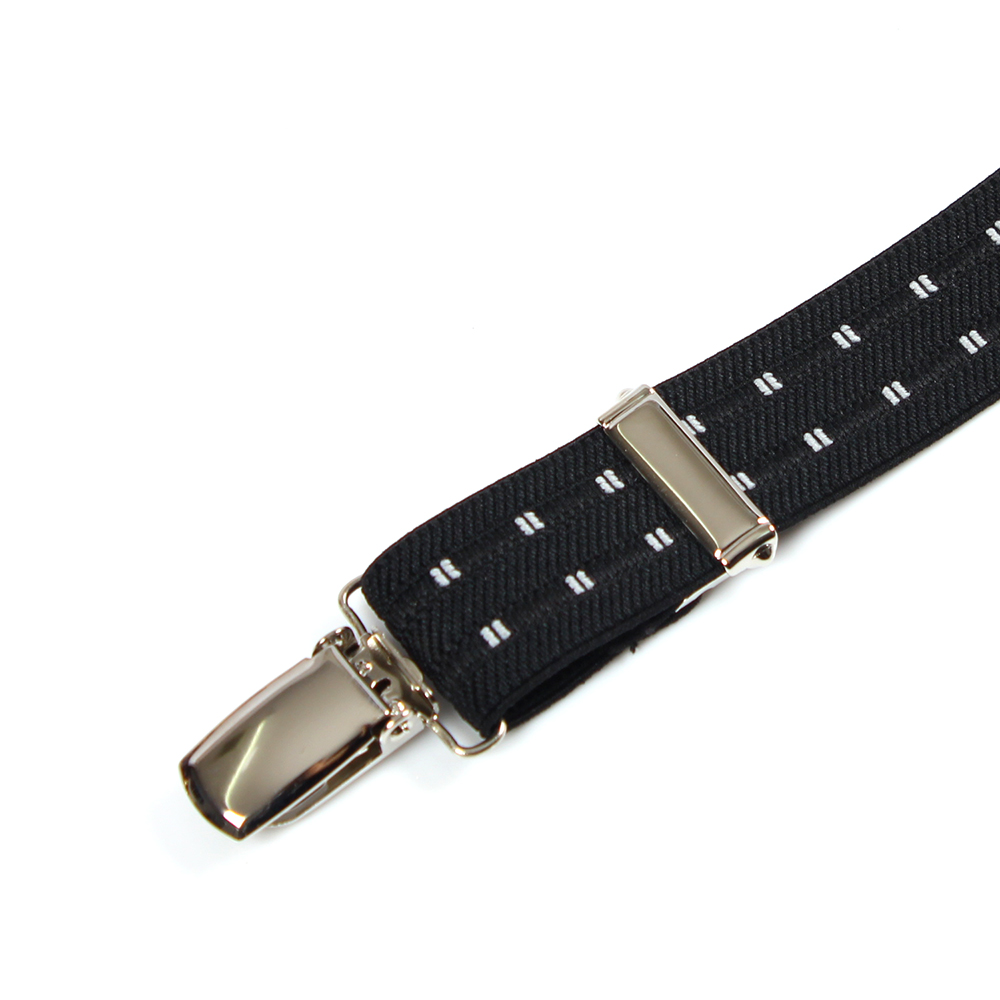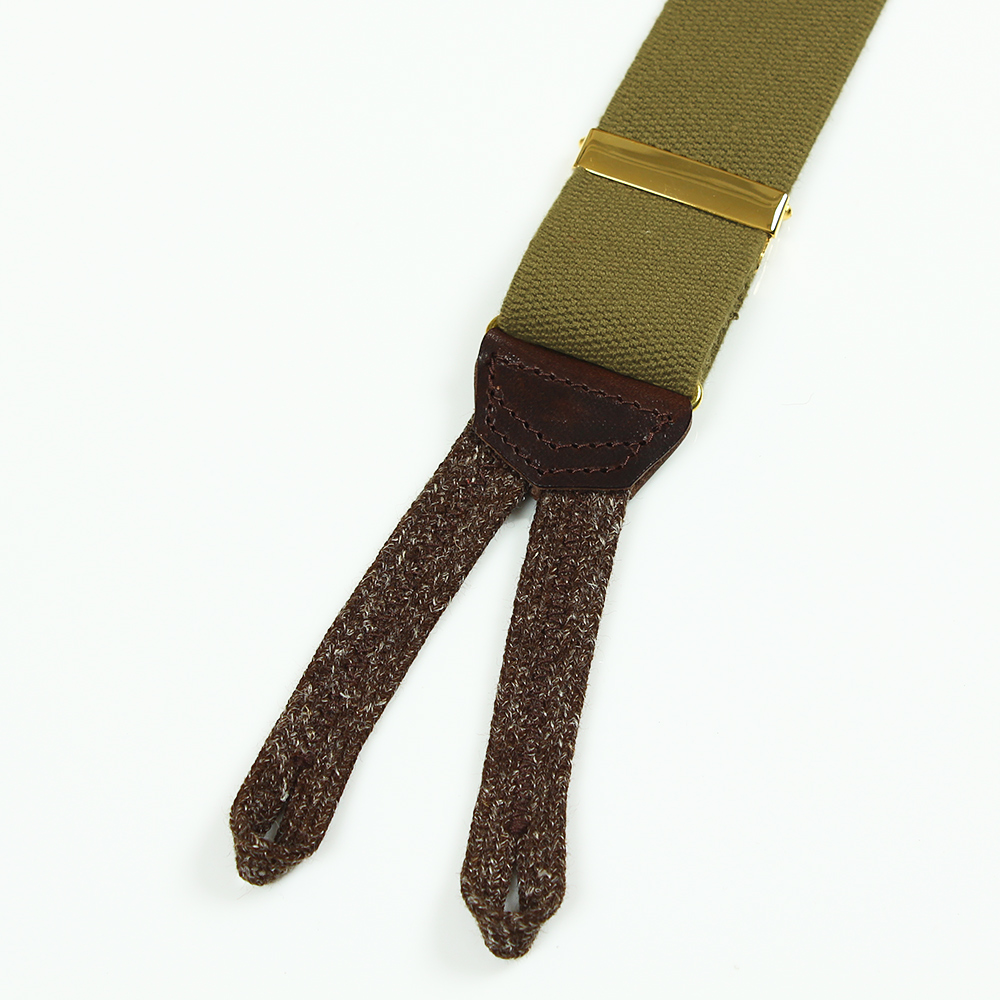 As shown in the image, there are three types of suspender ends: clip ends, leather ends, and blade ends.
There are three main types: clip ends, leather ends, and braid ends.
About Clip Ends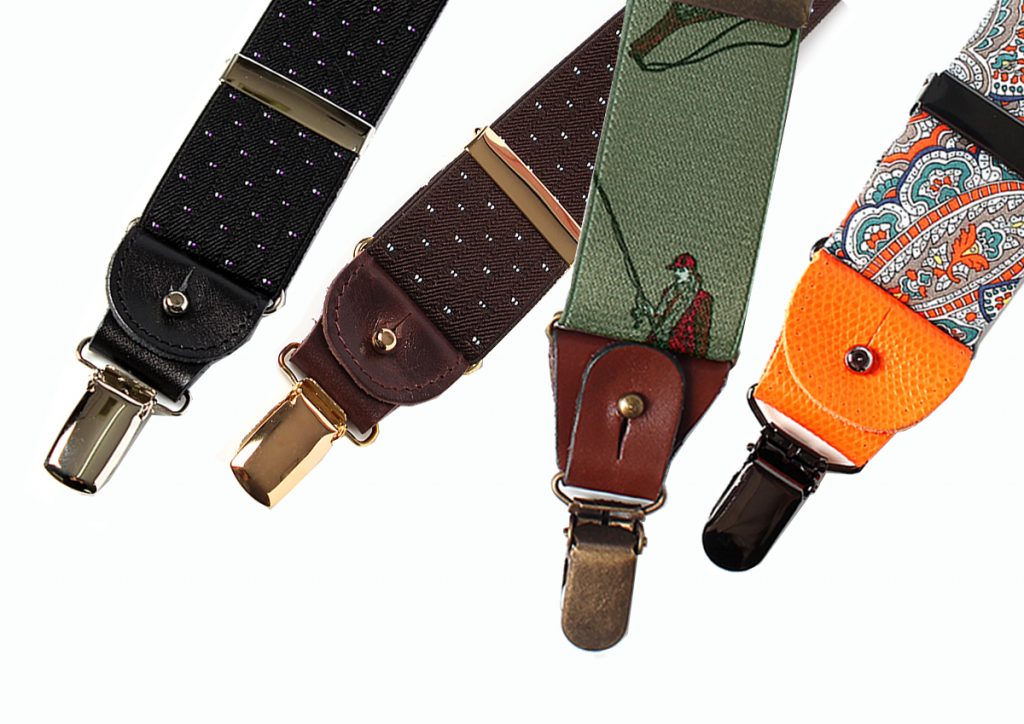 First, let's talk about the most common type of clip end in Japan.
Clip-ends, as the name suggests, are made of metal clips.
The advantage of clip-ends over the other two types is that they are easier to attach and detach than the other two types of ends, since they can be used simply by opening the clip and inserting the fabric between them.
However, since the clip is directly inserted into the fabric, depending on the quality of the clip, it may easily damage the fabric of the pants.
For those who prefer to wear suspenders that are easy to put on and take off, but do not want to damage the pants as much as possible, EXCY FORMAL mainly offers suspenders with high quality clips that are gentle to fabrics.
The inside of the clip is cushioned so that the fabric will not be damaged when the clip is used to fasten the pants.
About Leather End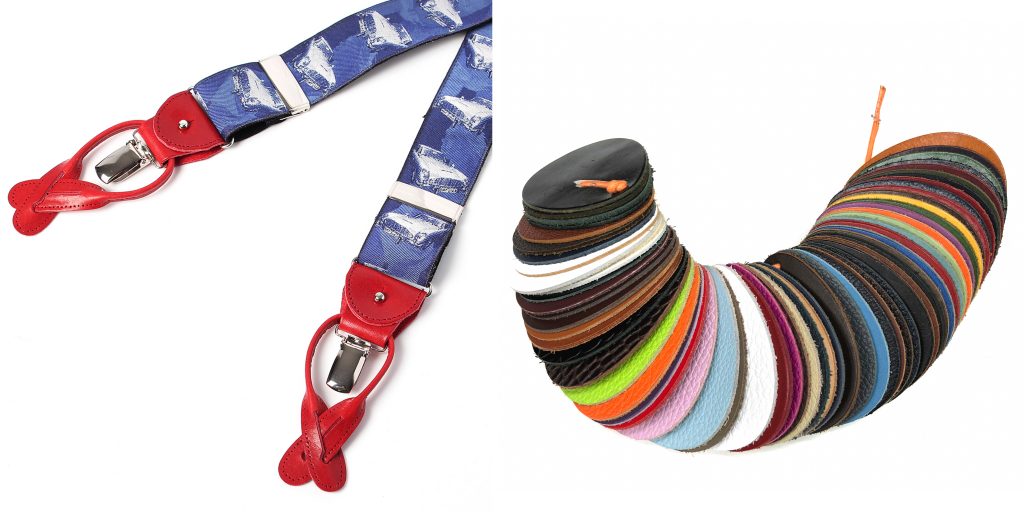 Leather end, as the name suggests, is an end made of leather.
This type is more classic than clip ends, and is the most common type in Europe.
Most of them are made of cowhide or goatskin, and EXCY FORMAL mainly handles cowhide ones.
EXCY FORMAL mainly handles cowhide leather products.
Leather may not have a colorful image, but it is surprisingly available in a wide variety of colors.
Also, unlike clips, leather ends do not have a place to hold the fabric. So how do you fasten them?
You sew six buttons on the inside of the pants and fasten the leatherette ends to them.
It does not damage the fabric directly like a clip, but it does require advance preparation: the special buttons must be sewn onto the pants in advance when you want to use it.
Some people want to use leather ends in a cool way, but don't want to go through the trouble of sewing buttons onto their pants! There are some people who want to use leather ends.
EXCY FORMAL sells clip-on buttons that do not require sewing.

The design of the antique-style buttons on the front side is not only practical, but the buttons themselves are an excellent coordinating accent!
About Blade End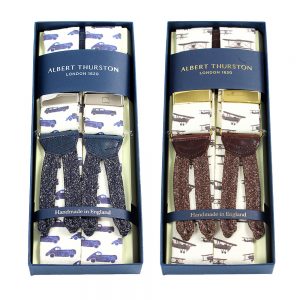 Finally, let's talk about braid-end suspenders. Blade ends are made of braid, mainly made of cotton or other material. They are basically a companion to leather ends, and are used in the same way, fastened to a button. It is recommended for those who want to create a warm atmosphere.
I can't choose between clip ends or leather ends!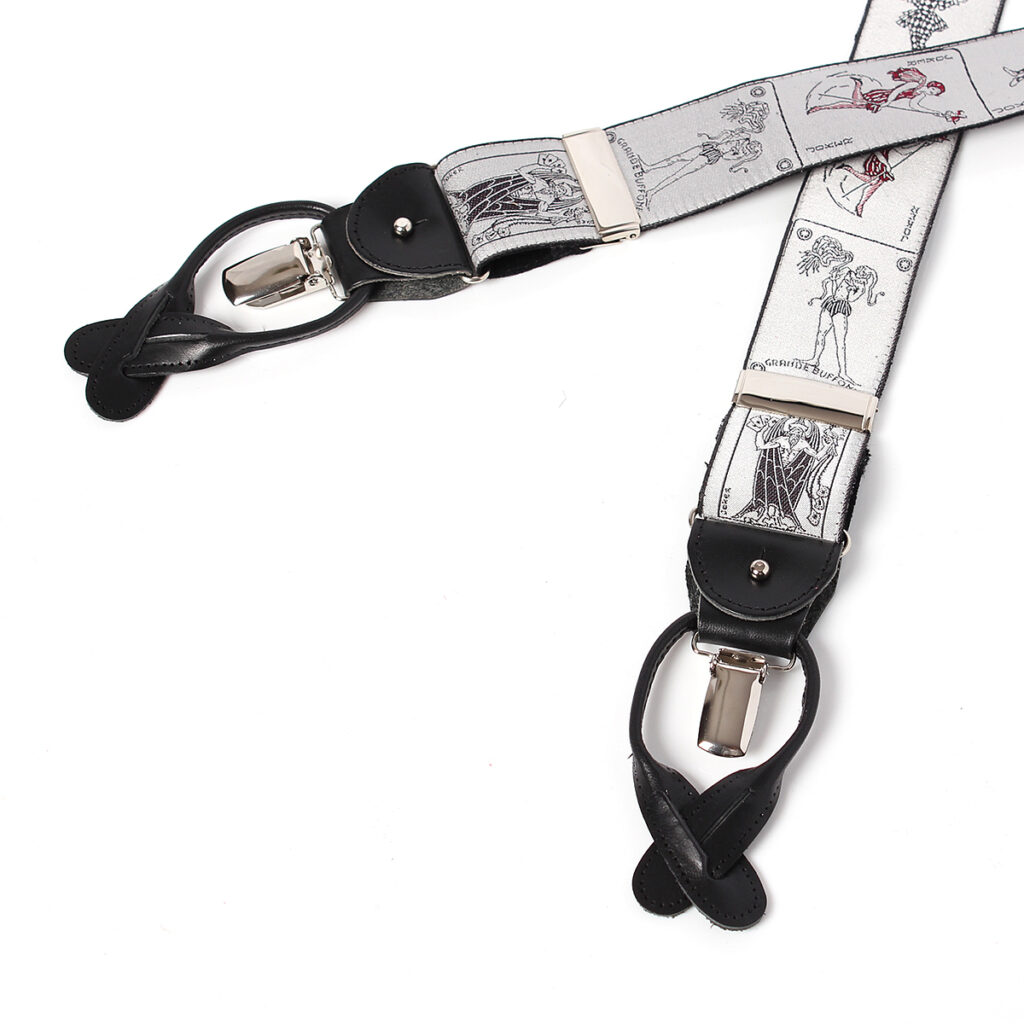 Since clip ends and leather ends each have different advantages, it is difficult to know which one to choose. I think there are many people like that.
That is why EXCY FORMAL has a large selection of 2-in-1 suspenders, that is, suspenders with both leather and clip ends, which can be changed depending on the mood of the day!
If you are in doubt, you should definitely buy the 2-in-1 suspenders!
Click here to see EXCY FORMAL suspenders!
In addition, if you are a corporation and would like to request an OEM/ODM for formal accessories, a separate estimate for a large order, or a sales representative to contact you, please feel free to contact us from here.↓↓↓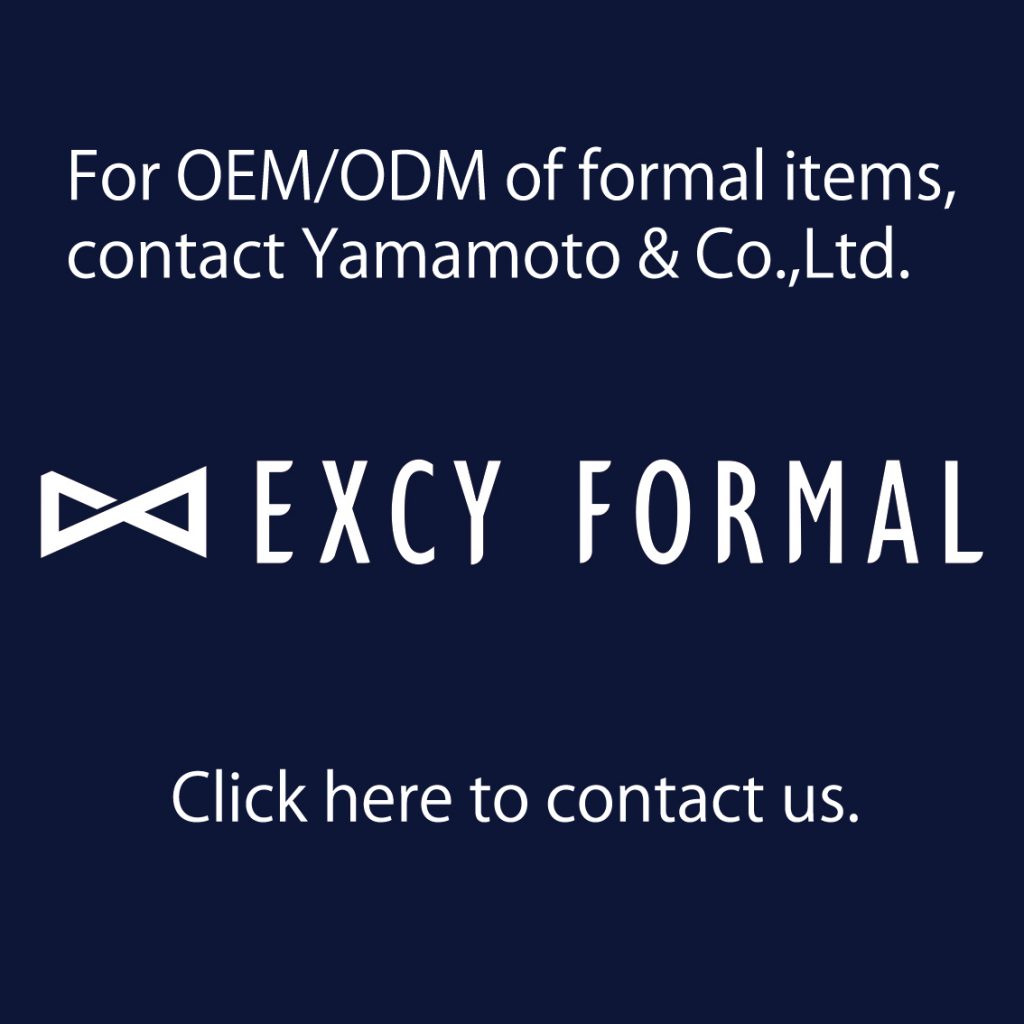 B to B apparel materials as we mentioned above. ↓↓↓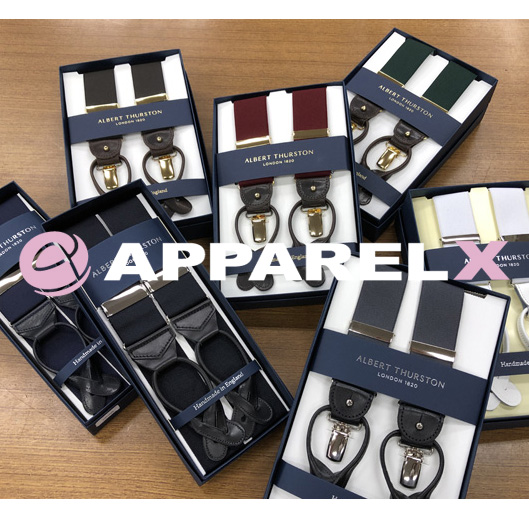 We have been involved in men's formal wear for more than 10 years.
We will support you on your special day.