In this issue, I would like to wriThere are numerous sewing factories in Japan. Among them, about 60 companies sew more than 10,000 order-made suits per year. Jenz Inc. is one of the three three-star certified factories (from IACDE, February 2016) among those 60 companies. In this issue, we talk about Gents.
I am Yu Yamamoto, a member of the TAILORS WORLD editorial team.
Gents Corporation was founded on August 6, 1969, and currently manufactures at two factories in Fukushima City, Fukushima Prefecture and Kasukabe City, Saitama Prefecture.
The Fukushima factory has 130 employees and mainly produces men's jackets and vests, while the Kasukabe factory has 25 employees and produces men's pants.
The first of these strengths of Jens is its computer system for manufacturing menswear. We have developed and use our own computer system to make it easier for the field to work. For cutting, two of the latest CAMs (product manufacturing and processing systems) have been installed to improve cutting efficiency.
The second is the outstanding craftsmanship of our artisans. When cutting, if it is not possible to cut by machine, we cut each piece by hand.
This is the strength of Gents. Let us introduce you to the factory floor.
The Overwhelmingly Spacious Factory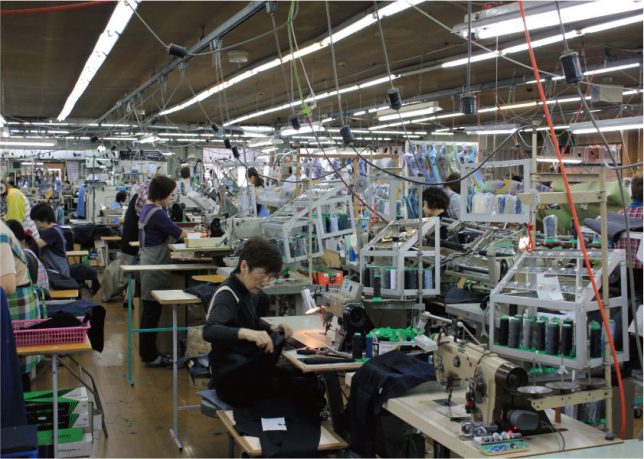 Approximately 130 craftsmen work on a vast floor of more than 1,000 square meters.
In addition, in order to meet the sewing needs of all kinds of customers, craftsmen are working day in and day out.
We are working silently to increase speed and production rate.
Data Entry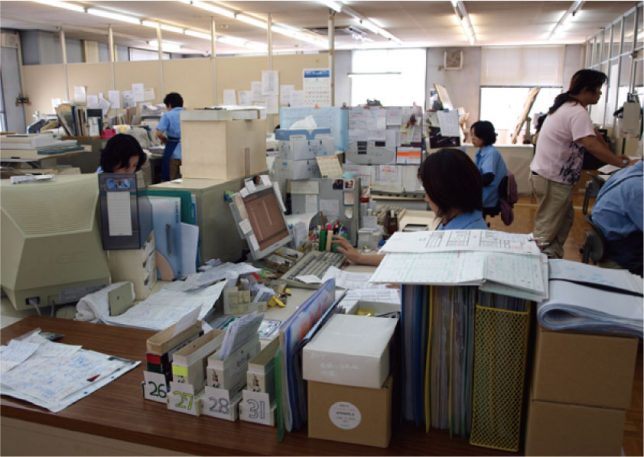 Order sheets with customer measurements and designs are checked one by one and data is input.
The accepted orders are first assigned a control number at the control center in the factory, and the cycle is
The decision is then made. The slips are strictly controlled by a staff of about six people, and orders arrive daily.
The order sheets are double-checked to ensure that no mistakes are made and to prevent any omissions from the order sheets.
Fabric Check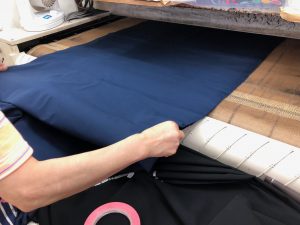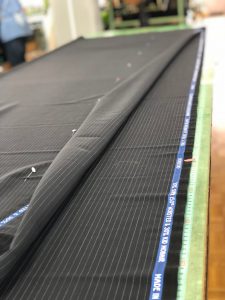 The fabric received from the customer is grounded.
The fabric is spread out on the cutting table, checked for flaws and stains, and folded so that the stripes and check patterns match.
CAD/CAM & Manual Cutting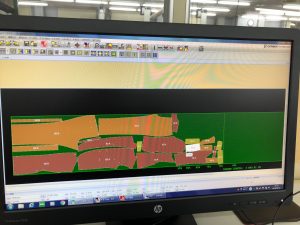 A pattern for the first data entered is created, and the pattern is inserted.
Gents claims to be a high-end men's wear, so basically, cutting is done in one direction.
In principle, we cut in one direction, but we also employ a technology that automatically avoids flaws and arranges the inserts in the pattern.
Automatic cutting is performed by CAM based on the data from the pattern.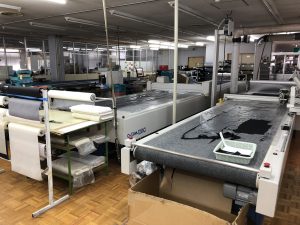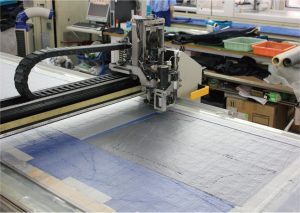 For fabrics with plaid patterns or those that require special cutting, we do not neglect the excellent skills of our skilled craftsmen.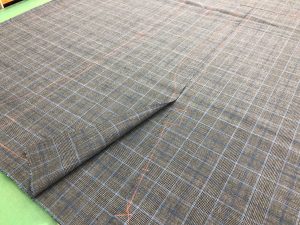 Each piece is carefully cut by hand, one by one, to match the pattern.
Preparation before sewing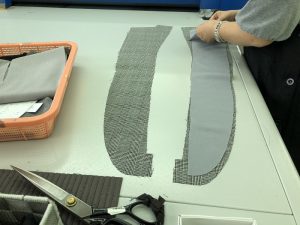 After cutting, the pattern is cored and the pockets are gathered.
Preparation before sewing is done, and the sewing process begins.
Sewing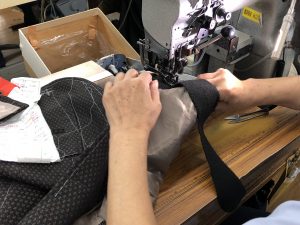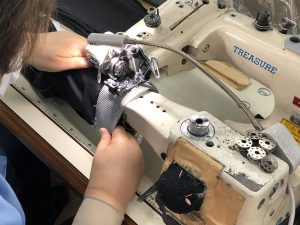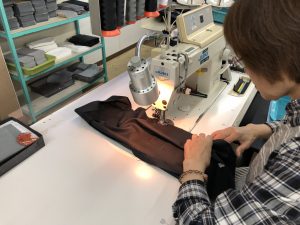 There are about 300 sewing processes. The sewing process is divided into teams for each part, and the sewing is done in a streamlined and efficient manner.
The combination of skilled skills and high-performance machines on state-of-the-art sewing machines produces suits with a high degree of perfection.
Sewing machines alone, including buttonhole machines, core setting machines, cushioning machines, sleeve attaching machines, matsuri sewing machines, pocket machines
The back, back body, collar, sleeves, and front are sewn by each part to make one jacket.
The product is then assembled. Intermediate pressing and intermediate inspections are conducted at each step, and a single product is completed in this world.
Inspection After Sewing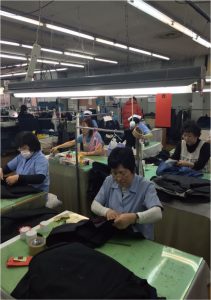 There is a final check after all sewing processes are completed. An order item slip is attached to the finished product, and the specifications and
A six-person inspection team inspects the products in detail, including thread holes and other defects.
Finishing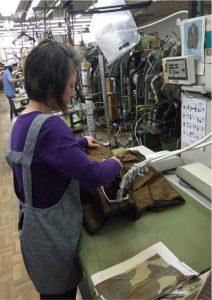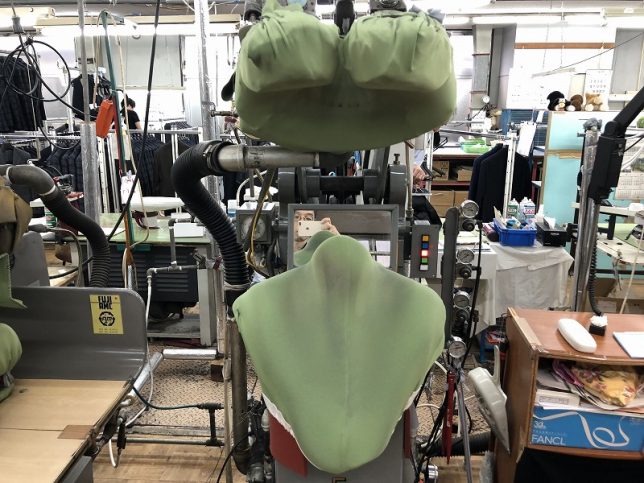 After sewing inspection, dedicated presses and craftsmen are assigned to each section of the body, sleeves, shoulders, and collar.
Furthermore, after finishing the pressing machine, we press the garments by hand. No compromise is allowed until the very end.
After pressing, a three-dimensional jacket is completed.
Final Inspection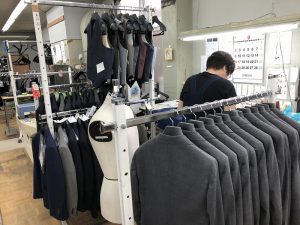 Final inspection and needle inspection are performed before safe shipment.
Once shipped, the products are inspected and pressed again at Yamamoto and delivered to the customer.
Thank You for Reading So Far
This is the introduction to the sewing factory, Gents.
One of the strengths of Gents that we were unable to introduce earlier is that among order-made suit factories, there are many items such as body shape correction and design modification, which are features that allow for a wide range of options.
We are proud to be able to provide our customers with more stable products and peace of mind!
For tailors, apparel makers, and select stores looking for a custom suit factory, we are sure that we can be of service to you.
Please feel free to contact us if you are a tailor or a company that is interested!

After 2 years of training at a major order-made suit store in Japan, I started my career in apparel materials and fabrics.
I'm especially good at suits and coats.